Divorce
01

Feb,17
5 Actions to Take When Domestic Violence is an Issue During a Divorce
Divorce is a stressful and unpleasant process under any circumstances, but when domestic violence is involved, it takes on its worst and most dangerous aspect. Whether domestic violence is the cause of the divorceor the result of it, matters little. What's important is that if you find yourself in the middle of a physically volatile situation, you take steps to protect yourself and your children.
Domestic abuse is a widespread and growing problem. According to the Centers for Disease Control and Prevention, each year more than 10 million people are the victim of domestic violence, an average of twenty per minute. The American Psychological Association estimates that one in three womenhave experienced stalking and/or violence at the hands of a partner in their lifetime.
And it seems to be getting worse. A survey conducted by the American Academy of Matrimonial Lawyers found that 32% of attorneys surveyed believed that incidents of domestic violence during divorce have increased over the last five years.
Men are often the victims of violence too. The above mentioned APA study states that one in four men have been physically assaulted by their partners, and another recent study has found that more than 40% of all victims of domestic violence are men.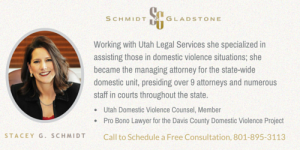 Essential Steps to Take in a Domestic Violence Divorce Situation
When domestic violence enters the picture, there are certain actions you should take immediately to protect yourself and your family.
Contact the police.

Take threats and intimidation seriously, and call for help before things get physical. The definition of domestic violence includes verbal and emotional abuse too. Listen to the officer's advice, they've undoubtedly handled many domestic violence situations. If they believe your spouse should be arrested, don't try to talk them out of it.

Ask for a child custody evaluation.

If there is disagreement over who should get custody or the conditions of custody, request that an evaluator be assigned to the case. The evaluation should focus on you as well as your spouse and how your children relate to each of you. If domestic abuse has been present, that should also be factored into the evaluation.

Request a psychological evaluation.

If there issues involving mental health or substance abuse that are contributing to your spouse's violent behavior, they need to be identified for their good and yours. If your divorce is primarily about this type of behavior, discovering the root cause and getting treatment could even save your marriage.

Engage in separate counseling first.

It's important that each of you receive counseling in private before you consider family counseling, where both parties will be present. A safe environment that doesn't allow the abusive spouse to put the blame on you, or asks you to take part of the responsibility, is vital to your emotional well-being during the initial stages.

Speak out.

Don't be afraid to reach out to the resources around you if you are experiencing domestic violence. Talk to your family, friends, church community, and abuse assistance organizations. You won't get help unless you let others know you have a problem.
Retain Experienced Domestic Violence Divorce Attorney Utah
It's not uncommon for an abused spouse to be intimidated into accepting an unfairdivorcesettlement. To protect your rights, seek the counsel of an attorney who has experience in handling divorce and domestic violence issues. Stacy Schmidt has many years of experience in working with cases like this, and she can help to ensure your interests are safeguarded. For more informationcontact Schmidt Law Firmfor a free and confidential consultation.