Immigration
07

Feb,17
The Importance of Becoming an American Citizen
As a person born and raised in Mexico, I am in touch with the Latino community; I have heard what their concerns are when it refers to health, economy, politics, immigration and education.
They are concerned because they care about their families and themselves. Additionally, immigrants know that as tax payers they contribute to the Unites States' economy so they deserve good services and benefits from the government. I do not disagree with them; in fact, I am pro-immigrant and personally know the efforts and sacrifices that are required to live in this country, if we want to succeed in this society.
On the other hand, I am aware of what we as immigrants are obligated and required to do if we want to receive benefits and have responsibilities in this wonderful country. One of those essential things that as immigrants we have to do is become an American citizen. According to the U.S. Citizenship and Immigration Services (USCIS), since 1985 a total of 20,370,628 Legal Permanent Residents (LPRs) have arrived to different counties in the U.S. Of that amount, only 8,130,996 LPRs have been naturalized while others have not, despite being eligible to naturalize. This is a huge concern because there are millions of people who are losing the opportunity of receiving privileges from the country and contributing even more to it.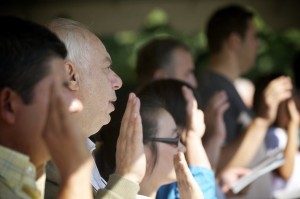 There are several reasons why LPRs have not naturalized such as; the lack of civil education about the rights of the American citizens. There are a lot of Latinos that think there is no need to become Citizens even though they have been Permanent Residents for many years. Furthermore, a lot of them think that studying English and memorizing the questions that are in the naturalization test are difficult endeavors for them. Last but not least, since voting in America is not mandatory, as it is in most of the Latino countries, Permanent Residents think that they are just fine not voting. Well, let me invite the Latino community to think about some benefits of becoming an American citizen. First of all, by becoming an American citizen, a person is entitled to participate in the presidential elections. This constitutional right allows us to influence the future of this country and the issues that directly affect our communities and our families. It is better than simply being obligated to accept a President that was chosen by the rest of the citizens.
In addition, according to the United States Census of 2000, Hispanics will be the largest minority by the year 2050. If the Latino people have enough political influence through the following decades, by voting, they will help influence the issues that affect them both directly and indirectly. By voting not only in the presidential elections but voting in all levels of government, our voices will be heard. Therefore, our presence in this country will be even more important in defining significant political matters. We have to be part of those who make important decisions and not only observers. I encourage you eligible Latino people to take advantage of becoming an American citizen and do not hesitate to start your change of status process as soon as possible. Please have a licensed attorney start your immigration process to avoid being scammed by people who don't know anything about immigration law.
Schmidt Law Firm Law Firm
136 East South Temple Street #1500
Salt Lake City, UT 84111‎
(801) 895-3113