Immigration
07

Feb,17
Federal Appeals Court: Arizona Sheriff Cannot Detain People on Suspicion of Being Undocumented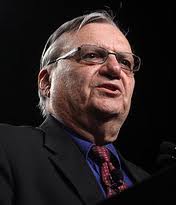 Sheriff Joe Arpaio of the Maricopa County (AZ) Sheriff's Department
This Tuesday, a federal appeals court denied Maricopa County Sheriff Joe Arpaio's request to reverse the U.S. District Court's preliminary injunction that barred his deputies from detaining people solely on the suspicion that they are undocumented immigrants. The court held that the district court judge did not abuse his discretion in granting the preliminary injunction, and that the ruling does not impede the Maricopa County Sheriff's Office ability to enforce state and federal criminal laws. This decision is part of a broader class action lawsuit against Sheriff Arpaio and his department for their alleged conduct in pulling over Latino drivers for the purpose of verifying their immigration status.
The lawsuit against Arpaio and the Maricopa County Sheriff's Office alleges systematic racial profiling of Latinos in Maricopa County, Arizona. Specifically, the complaint, in addition to the "show me your papers" traffic stops, also alleged that Arpaio ordered immigration patrols, not based on reports of crime, but rather on letters from Arizonans who complained about people with dark skin congregating in an area or speaking Spanish. Sheriff Arpaio denies these allegations.
The U.S. Department of Justice filed suit in May against Arpaio and the Maricopa County Sheriff's Office for civil rights violations, alleging racial profiling and other violations.
Schmidt Law Firm Law Firm
136 East South Temple Street #1500
Salt Lake City, UT 84111‎
(801) 895-3113