Immigration
04

Feb,17
Obama Administration's Big Announcement for Young Undocumented Immigrants
Attention all DREAM-ers! Later today, President Obama will announce the following:
DHS continues to focus its enforcement resources on the removal of individuals who pose a national security or public safety risk, including immigrants convicted of crimes, violent criminals, felons, and repeat immigration law offenders. Today's action further enhances the Department's ability to focus on these priority removals. Under this directive, individuals who demonstrate that they meet the following criteria will be eligible for an exercise of discretion, specifically deferred action, on a case-by-case basis:
1.) Came to the United States under the age of sixteen;
2.) Have continuously resided in the United States for a least five years preceding the date of this memorandum and are present in the United States on the date of this memorandum;
3.) Are currently in school, have graduated from high school, have obtained a general education development certificate, or are honorably discharged veterans of the Coast Guard or Armed Forces of the United States;
4.) Have not been convicted of a felony offense, a significant misdemeanor offense, multiple misdemeanor offenses, or otherwise pose a threat to national security or public safety;
5.) Are not above the age of thirty.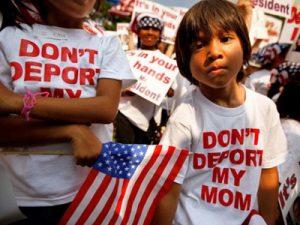 The President's shift in immigration enforcement policy seems to be an attempt by the Administration to use its prosecutorial discretion to implement some of the policies under the DREAM Act, which has been stalled in Congress. Under the DREAM Act, undocumented immigrants who were brought into the country as children (who do not pose a threat to national security or public safety) would not only avoid removal/deportation, but would also have a pathway to becoming lawful permanent residents and, eventually, citizens. Although this change in enforcement policy likely does not provide a pathway to obtaining a green card (LPR) or citizenship, it certainly goes a long way towards keeping immigrant families together. This is good news for the young Utah mothers I blogged about last week — under this new policy, the Avelars may be eligible to petition for this exercise of discretion and avoid deportation.
With this announcement, there will undoubtedly be a series of forms and procedures that will be necessary for immigrants to be considered under the new policy. Immigration attorneys will stand ready to learn these procedures and assist potential beneficiaries as they navigate the process. If you are a DREAMer, and wish to obtain benefits under this new policy, contact a knowledgeable immigration attorney.
Read more:
http://www.dhs.gov/ynews/releases/20120612-napolitano-announces-deferred-action-process-for-young-people.shtm
http://www.foxnews.com/politics/2012/06/15/obama-administration-to-offer-immunity-to-younger-immigrants/
http://nbcpolitics.msnbc.msn.com/_news/2012/06/15/12238794-obama-administration-wont-seek-deportation-of-young-illegal-immigrants?lite
http://miamiherald.typepad.com/nakedpolitics/2012/06/obama-administration-to-stop-deporting-dream-act-eligible-illegal-immigrants.html
http://www.businessinsider.com/obama-administration-ending-deportation-granting-work-permits-young-illegal-immigrants-2012-6#ixzz1xsFkvZep